Print
Queensland's Electric Super Highway
The Queensland Electric Super Highway is the world's longest electric super highway in a single state. It allows Queenslanders and tourists to travel from Coolangatta to Cairns and from Brisbane to Toowoomba in a low or zero emissions vehicle.
The fast chargers have been installed in convenient, safe locations close to major highways where there are existing amenities, such as cafes, restaurants and shops. The sites have been identified to allow motorists to easily charge their electric vehicle (EV) and have a short break during their journey, allowing them to prepare for a safe onwards journey.
Interactive map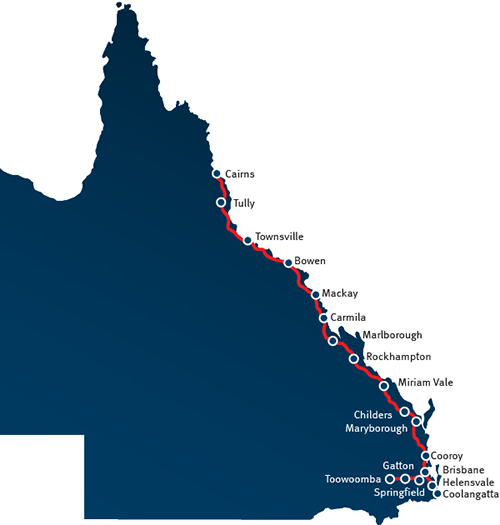 View the Queensland Electric Super Highway interactive google map.
How the super highway is powered
The Queensland Electric Super Highway charging stations use green energy either through direct green energy credits or offsets, making them a carbon-neutral and pollutant-free transport option.
More renewables (such as solar and wind) are being added to Queensland's energy generation mix, which means the energy used to charge EVs will become more green and sustainable.
An EV fully recharged by solar can save 2.7 to 3.8 tonnes of greenhouse gas emissions annually when compared to a fossil fuel vehicle (driving 15,000km per year).
Queensland Electric Super Highway recharging
To access the charging stations EV Motorists will need to have a Chargefox account. The app can be downloaded from the App Store or Google Play.
Plugshare
As well as Queensland Electric Super Highway charging stations, there are many public charging stations available in Queensland and around Australia. Further information can be found on PlugShare, a world-wide EV charging station app and online tool.
Charging options along the super highway
| DC charging options | AC charging options |
| --- | --- |
| CHAdeMO and CCS Combo Type 2 cables | Type 2 Mennekes socket (BYO charging cable) |
Safety at charging stations
When using the charging stations, follow all instructions displayed at the station including:
use only as intended and with due care
only cables and cars which use the charging connections available can be charged at the stations
for DC fast charging use the cables attached to the charger
for AC charging use your own charging cable or adapter that supports the Mennekes/Type 2 socket
connect the cable to your vehicle's charging point
activate 'charging' on the charging point
if you are unsure if your vehicle supports AC charging or DC fast charging please check your vehicles handbook before using.