Brisbane 2032 procurement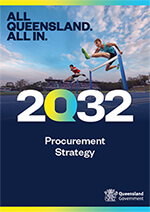 Brisbane 2032 enables Queensland businesses to grow, win more work, and showcase the best that our state has to offer.
Get ready to supply to the Brisbane 2032 Olympic and Paralympic Games
Brisbane 2032 will create a pipeline of opportunities and be a catalyst for Queensland businesses to create valuable new partnerships and supply chains.
Now is the time for all Queensland businesses to:
Build your business capability
Gain experience tendering
Understand what's required for supplying to government.
Build your business capability
Start building your supply capabilities now by:
Developing a business capability statement that describes your value proposition. Outline the technical skills, competencies and experience that positions your business above others.
Gaining direct experience supplying to government by participating in a tender process, delivering a contract directly or by working in the supply chain of a government contract.
Strengthening your business networks by participating in industry networking events to promote your business and build new partnerships.
Following the steps to improve your tender approach.
Identifying skills gaps in how you tender for business and seek ways to address them, such as requesting a supplier debriefing following an unsuccessful tender.
Gain experience tendering and supplying to government
Learn more about the tendering process by:
Creating a business profile on QTenders to receive upcoming Queensland Government tender opportunities.
Check for Local Government procurement opportunities at LocalBuy, and Australian Government opportunities at Austender.
Participate in business information sessions for advice and assistance on tendering for government.
Find opportunities to supply to government by searching the Queensland Government's Forward Procurement Pipeline.
Understand what's required for supplying to government
We seek to engage suppliers who demonstrate ethical, environmental, and socially responsible business practices.
Read our Supplier Code of Conduct
Review the Supplier Guide to Government Procurement
Ensure your business meets the ethical supplier requirements of the Ethical Supplier Mandate and Ethical Supplier Threshold
Check your business is ready
Use our 'Fit to supply' quiz to help you determine if your business is ready to develop and deliver tender contracts.
The quiz takes about 15 minutes and will provide a personalised report that highlights your business' strengths and opportunities for further development.
Register for business opportunity updates