Print
Littering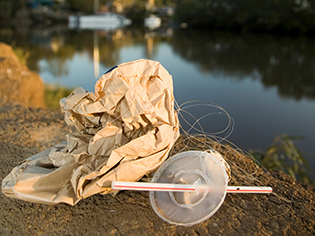 Littering is the unlawful deposit of any type of waste material that is less than 200 litres in volume (about the volume of a wheelie bin), and penalties apply.
The most commonly littered items include:
cigarette butts
drinks bottles and fast food packaging
food scraps like apple cores
green waste such as palm fronds and grass clippings
fishing tackle
The following types of activities would be considered as littering:
leaving items beside an overflowing bin
leaving items under your seat at a sports stadium
leaving a newspaper on public transport
releasing balloons at celebrations at a school
material falling off a trailer because it was uncovered or poorly secured.
'Dangerous littering' causes, or is likely to cause, harm to a person, property or the environment, and tougher penalties apply. This includes:
throwing a lit cigarette butt into bushland
leaving a hypodermic needle in a park
smashing a glass bottle on the footpath
throwing an item from a moving vehicle at a pedestrian or cyclist.
Report littering
You can report littering online (from a vehicle/vessel), to council or by email.
Why is littering a problem?
Littering pollutes our environment and significantly diminishes the use, enjoyment and value of our public places—making our communities appear dirty and uncared for, unpleasant to be in, and less likely to be used and enjoyed.
Litter dropped in streets, along the side of the road, or in bushland can be washed or blown into creeks and rivers, polluting land, waterways and ocean environments. It is also the cause of great harm and suffering to the animals that get tangled in, injured by or ingest littered items, along with facilitating the spread of disease and pests.
Littering costs Queensland communities millions of dollars each year in waste management and clean-up expenses which could otherwise be used for important community services or amenities.
Roadside littering
One of the most commonly littered areas is highways, with the most commonly littered items being beverage containers, cigarettes and food-related products.
You can help stop roadside litter by:
keeping your waste inside the car until you can dispose of it in the appropriate bin
if you see it, report it
Check out the south west region roadside litter prevention pilot program – encouraging road-users to Love Queensland and help keep our highways free from litter.
Litter and Illegal Dumping Action Plan
Our vision is to create a Queensland free from litter and illegal dumping driven by the adoption of best practice in waste management in education. This agenda is being delivered through the Queensland's Litter and Illegal Dumping Action Plan (PDF, 2.8MB).
As part of this plan, much effort is going into building a solid foundation in raising the community's awareness, the risk to offenders and the capacity of enforcement officers.
Check out some of the littering and illegal dumping projects underway in Queensland.